Vacuum Storage Bags by Variance
UPTO 80% MORE SPACE
Durable, flexible and 30% thicker Variance® vacuum bags offer a great solution for more storage in cupboards or luggage bags while travelling.

WATERPROOF & ODOR PROOF
Specially designed channels block oxygen and moisture.
FAST & Efficient
Double zip seal and the triple seal valve is designed to get air expulsion and nothing back in.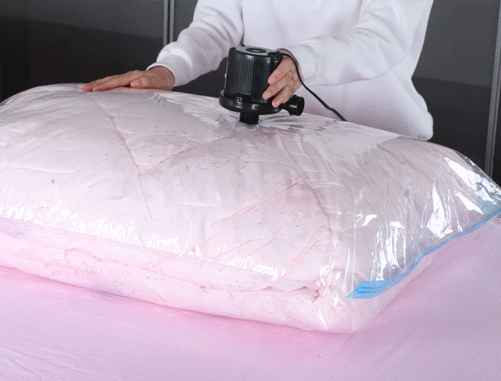 BPA FREE
Variance® has made sure that no harmful chemicals are used in the manufacturing of Variance® vacuum bags that can effect the contents stored inside them.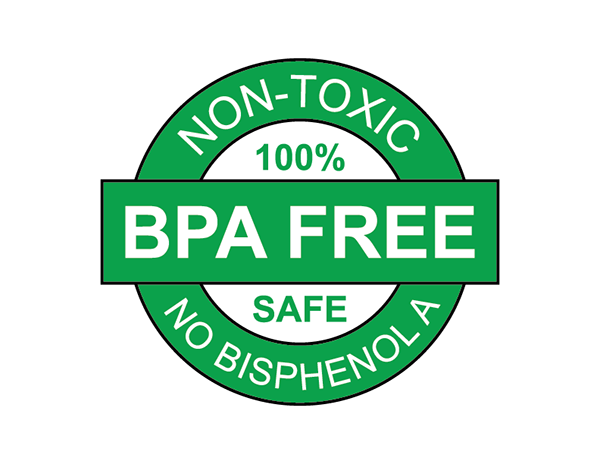 SAVE UNTO 80% storage with vacuum storage bags.
Perfect solution to free up much-needed space
Vacuum storage bags are the perfect solution to free up much-needed space in your home. With these handy vacuum bags, you can easily store away bulkier items such as pillows, blankets, and comforters without taking up valuable storage space. Plus, they help keep moisture out so that all of your stored items stay fresh and dry.
Highest Quality
At our store, we provide vacuum bags of the highest quality that won't leak air into the bag, no matter how often you use them. Whether you need an electric or manual pump, we have it all and deliver throughout Pakistan. So if you're looking to buy vacuum bags near me, make sure to check us out. We guarantee you won't be disappointed! Get organized today with vacuum storage bags – the perfect solution for a clutter-free home.
Clutter-free life
With vacuum storage bags, you don't have to sacrifice any precious space in your home. Make the most of your storage area with this simple, effective solution! Shop now and enjoy a .
We hope that by using vacuum bags to store your belongings, you can reclaim the space in your home and make it look better than ever. Buy vacuum bags near me today and get organized!
Make the smart choice
Still not convinced? Contact us today and learn more about how vacuum bags can benefit you. Our team of experts is ready to help you make the most out of your space! Buy vacuum bags near me and see just how effective they are for yourself. Make the smart choice—choose vacuum storage bags from our store today.
Click here to see how to use Vacuum storage bags.
Are vacuum seal bags worth it?
Absolutely! Vacuum seal bags are definitely worth it if you're looking to store items more efficiently – and for a longer period of time. Not only do they take up significantly less space in comparison to regular storage containers, but they also help keep food fresher for longer periods of time.
Perhaps the most important part about vacuum seal bags is that they provide an airtight seal. This prevents air from getting into the bag, which means that your food won't spoil as quickly – allowing you to enjoy its fresh taste for much longer than without it. In fact, some studies have shown that vacuum sealed foods stay fresher up to five times longer than traditional storage methods!
The benefits don't end there – vacuum sealed bags also help keep moisture out, protecting against mold and mildew buildup which can eventually cause health issues. Additionally, since vacuum sealing removes all the air from the bag and compresses its contents flat, items like clothes will not wrinkle or lose their shape over time due to lack of ventilation or support respectively.
All in all, given their superior performance when it comes to keeping things fresh and protected over long periods of time (plus taking up far less space!), it's quite clear why investing in a good set of vacuum seal bags is well worth it!
What should you not put in a vacuum bag?
When it comes to vacuum bags, there are certain items that should never be placed in them. Vacuum seal bags offer a convenient and efficient way to store food and other materials, but if you're not careful, these bags can pose a safety hazard. To ensure the safety of your family and possessions, here is a list of items that should never be put in vacuum seal bags:
1. Liquids – Water, oils and any other liquids can expand when exposed to low temperatures or high pressure. When this happens inside your vacuum sealed bag, it could cause the bag to rupture or lead to messy spills inside your vacuuming appliance.
2. Non-Food Items – Items like paper documents, photos or fabric swatches should not go into vacuum sealers unless they are layered between food grade plastic wrap sheets with no air pockets left between the sheets. This precaution will prevent harmful elements from seeping through the material into the stored item during sealing process as well as avoiding clogging of filter due to dust particles brought by non-food items (if any).
3. Greasy Foods – Greasy meats like bacon have higher fat contents which may liquefy during storage time leading to messier leakages that could clog up your machine's filters over time if used repeatedly without proper maintenance. Foods with oil content are also more likely than others such as fruits & vegetables -to form bacteria while stored in vaccum sealed environment due their longer shelf life caused by lack of air circulation within the bag limiting oxidation process required for freshness maintenance.. Hence try storing products based on given usage guidance (freeze/refrigerate) instead of relying solely on vacuum seal technique for preservation purposes especially when dealing with greasy foods regardless how good quality storage media has been chosen along with extended storage period planned ahead before freezing/cooling down product accordingly.
4 Plastic Containers– Resealable zip top plastic containers made for microwave use must never be placed inside a vacuum sealed bag since microwaves generate heat which is detrimental for long term health risks associated with BPA chemicals leaching from plastics under high temperature stress conditions; causing potential damage permanently even after taken out from direct heat source plus absorbing grease vapor released during cooking process changing taste & coloration over time ).
5 Blunt Objects – Barring sharp objects like knives (which shouldn't get near sealing part anyways!), placing blunt objects such as spatulas may interfere working mechanism involved in compression phase where heavier weighted bar on top flatten down incoming gas molecules while creating airflow input hence making an tight fit around object being compressed at same occasion; failing which might lead gaps getting formed throughout closure seam resulting pumped out oxygen reaching its full capacity earlier than expected before reaching desired level leaving enough room parasites survive rather being flushed out properly thus enabling germs multiply even further simply because right amount suction power wasn't available at crucial point yet similar behavior observed case when using grocery plastic packaging containing soft materials i..e crackers etc.. Although this won't happen say every single time still better avoid taking risk just stay away inserting blunt substances totally!
Is it better to roll or fold clothes in vacuum bags?
The answer to this question depends on what you are looking to achieve. Rolling clothes in vacuum bags is a great way to maximize space and keep items like jackets or coats compressed while also protecting them from dust, mites, and humidity. On the other hand, folding clothes into vacuum bags helps reduce wrinkles in garments and keeps them organized for future use.
In general, rolling your clothing items is the better option as it allows you to fit more items into a smaller space and prevents wrinkle formation. Vacuum-packing larger garments such as coats or jackets can save up to 75% of their original area whereas folded clothing only takes up 25-30% less physical space than when they were hanging in your closet. Additionally, rolling provides additional insulation against water vapor and dirt which further protect delicate fabrics from damage caused by poor storage conditions.
That said; if you have delicate fabrics that are prone to wrinkling such as silk or linen shirts then folding them makes more sense than rolling them for storage purposes due to the reduced risk of creasing fabric fibers at tight corners during wrapping with the plastic bag material itself. Therefore when opting for vacuum-packaging these types of materials should be folded first before being sealed with a reliable reusable airtight zipper bag so that no air pocket will remain once sealed off (this will ensure no diminishing effects over time).
Overall; whether you opt for rolling or folding your item(s) inside a vacuum seal bag comes down largely on personal preference but either option has its merits depending on specific circumstances surrounding garment size/type and longevity requirements/preferences.
How many times can I use a vacuum bag?
Vacuum bags are a great way to store items and help keep them organized, but how long can you expect them to last? The answer depends on the type of vacuum bag being used, as well as how often it is used.
Traditional vacuum storage bags made from plastic or rubber are generally considered single-use products. Once the air has been removed from the bag and sealed, they should not be reused due to the chances of leakage or rupture when re-used. If you need to store something for an extended period of time (longer than a few weeks), these types of vacuum bags may not be suitable for your needs.
For short-term usage, however, some manufacturers offer reusable vacuum storage bags made from sturdy materials such as PEVA that have been tested for multiple uses with success. This material is designed to be durable enough so that properly sealing and unsealing the bag won't damage it in any way and allows you to use it again later with confidence that nothing will leak out or get ruined due to overcompression forces. Depending on the product manufacturer's recommendations, these types of reusable vacuum storage bags may support up to 10 reuses without significant deterioration in quality, though this number can vary greatly depending on factors such as how quickly food inside is consumed after opening/sealing each time or if other non-food items were stored inside which could cause abrasion/tear on delicate surfaces like PEVA film over successive uses.
To ensure maximum longevity of your vacuum storage bags while minimizing risks posed by repeated reuse (such as contamination or tearing), most experts suggest replacing traditional single-use vacuums after 2 – 3 uses at most while replaceable models should only require replacement every 5 – 6 months even with frequent use. By following these guidelines and taking note which types are best suited for your needs (single vs multiple reuse) you can maximize their usefulness while avoiding unnecessary waste!
REVIEWS
MAKE SURE YOU LET US KNOW IF YOU'RE SATISFIED.
Nice Quality. Works quicker with electric pump
Quite fun to use. We tried on our blanked which in reduced to like 30%. Too Good.
I think I should have ordered the mixed sizes pack. One size isn't enough.
I ordered this from the other brand but their quality wasn't nearly as good as Variance.
Manual pump works just as good. Just takes a bit long.
Quite quick and fun to use.