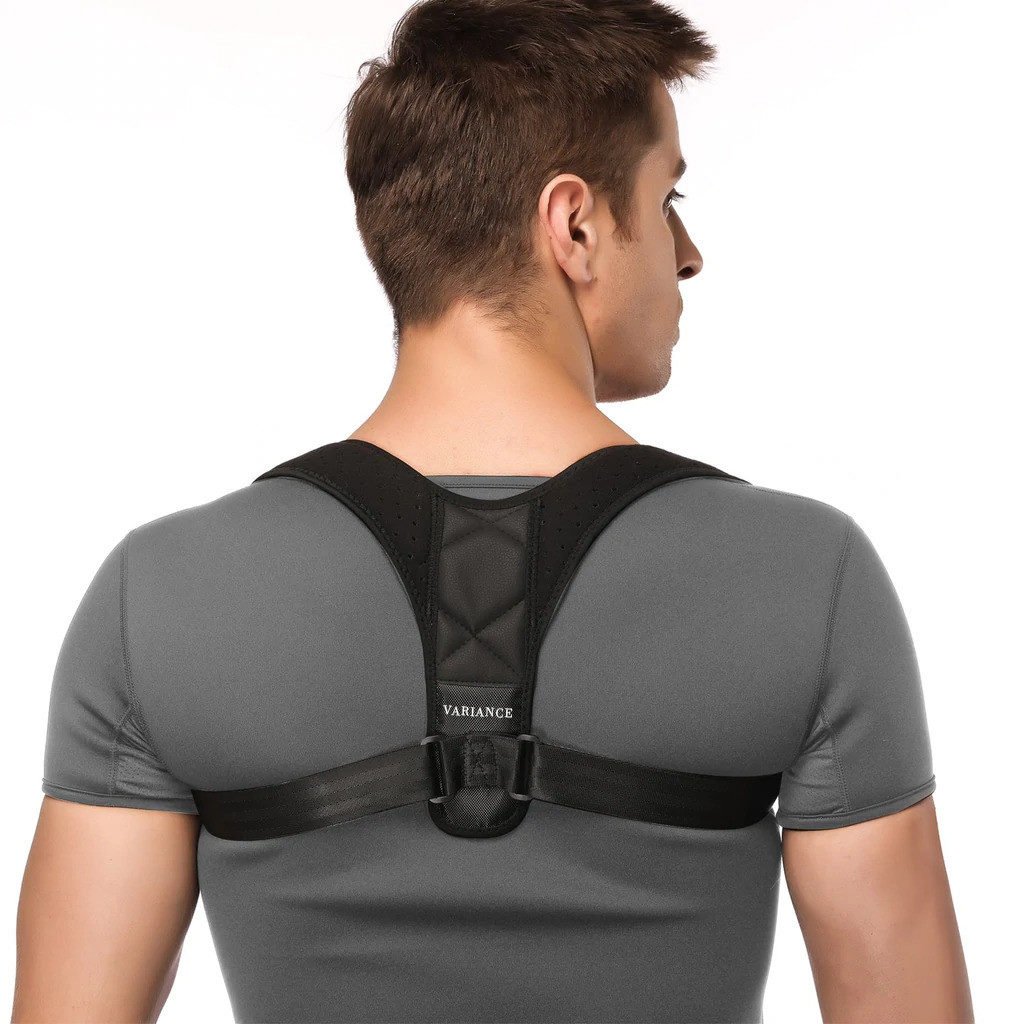 REMARKABLE
RESULTS
Provides better support, improves posture, and relieves muscle pain.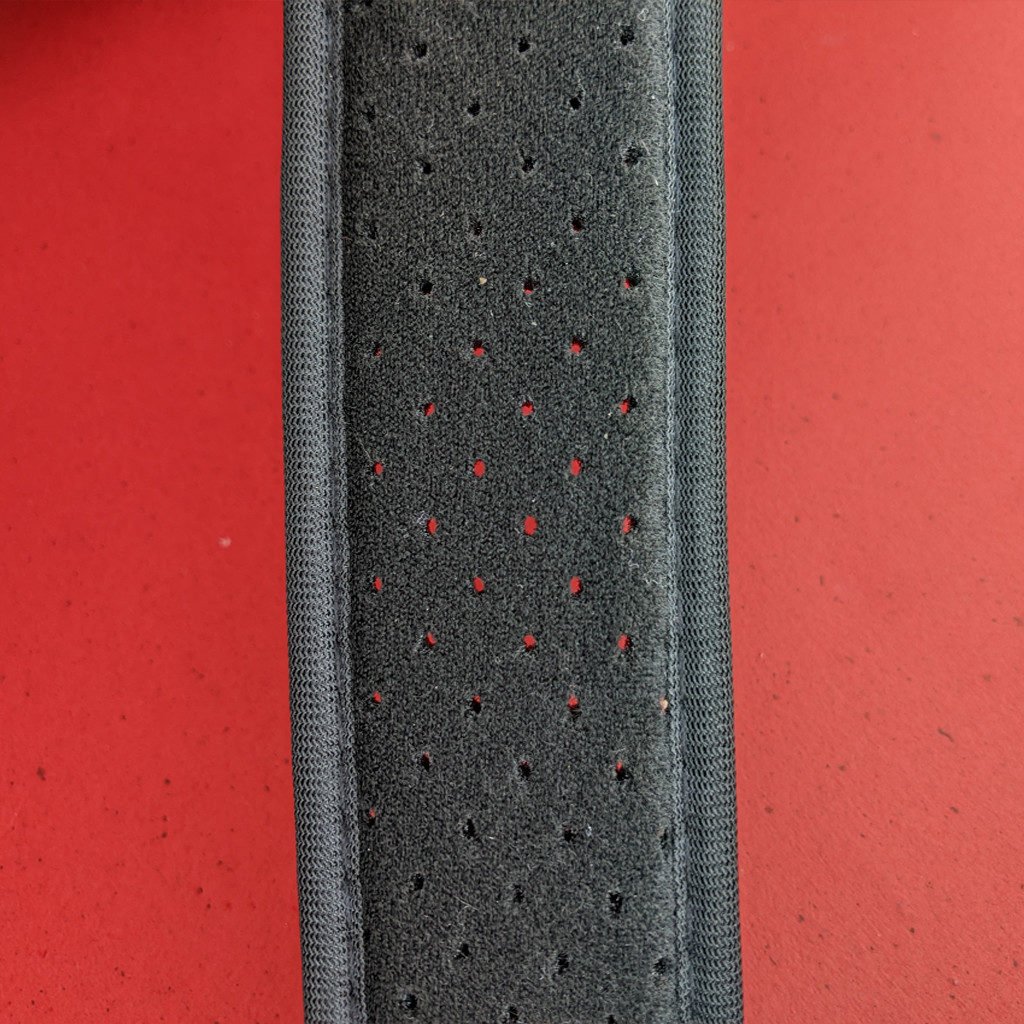 SOFT AND BREATHABLE
Made of porous and breathable foam for maximum comfort.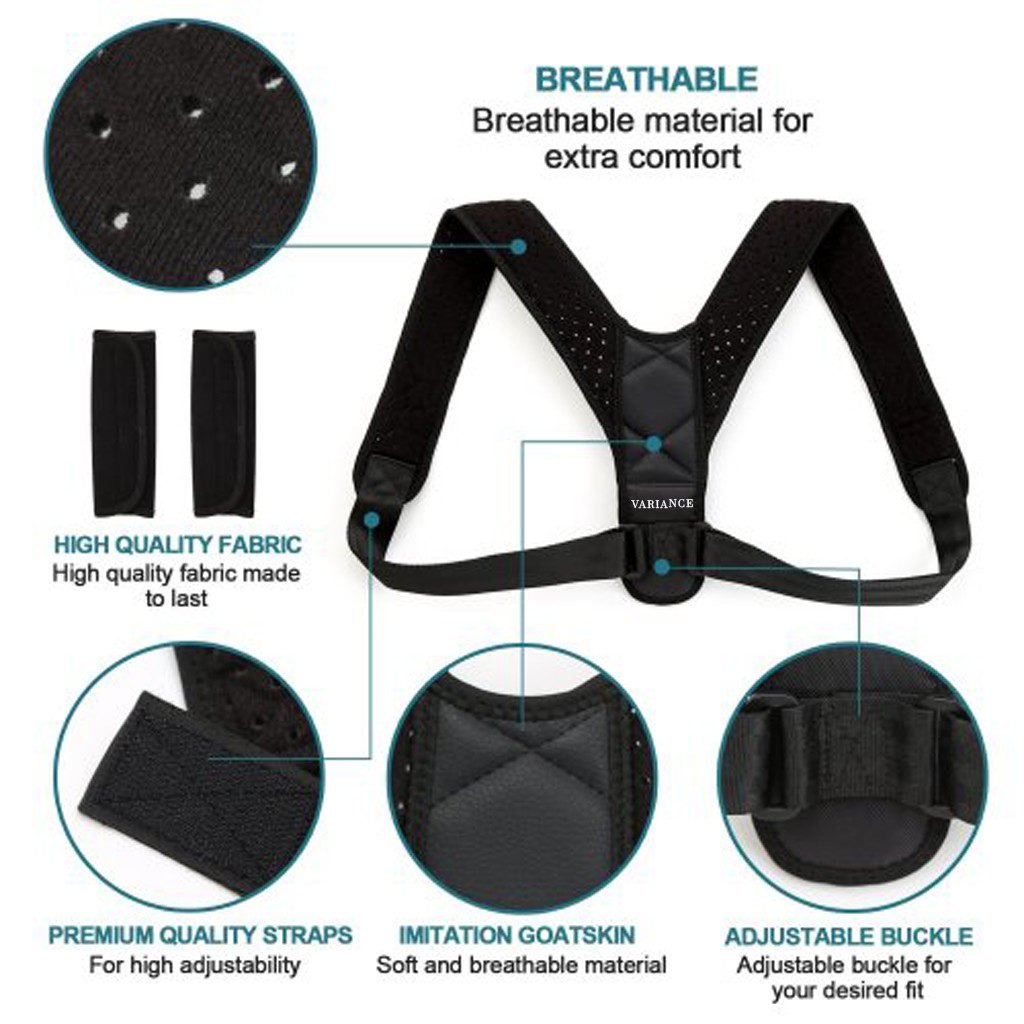 FUNCTIONAL & easy to wear
Includes 2 firm shoulder pads to reduce the pressure from the straps. With size ranging from 38in – 51in. You simply need to follow 4 easy steps to wear this shoulder brace.
PREMIUM QUALITY
Sturdy but lightweight. Very durable and does not fray easily.
BOOST YOUR CONFIDENCE 
Correct and achieve better posture and with the Variance Posture Corrector. With just 1 to 2 hours a day, you can feel great as you attain back pain relief and achieve posture correction!
COMFORTABLE AND STURDY
Our unique back posture corrector is engineered for comfort, composed of ultra-soft breathable NEOPRENE MATERIAL and features a WIDE BACK design and sturdy METAL CONNECTIONS for increased durability. Our back brace also includes comfortable UNDERARM PADS and can be worn under clothes, outdoors or at home!
EASY TO USE:
While other designs can be very difficult to adjust and get on, the lightweight Variance posture brace includes LONGER STRAPS and pain free step-by-step instructions for easy usage. Our design features fully ADJUSTABLE STRAPS and serves as a best posture model, suitable for anyone with CHEST SIZE of 28 INCHES TO 48 INCHES
vARIANCE.PK offers Posture support Brace Adjustable Straight Strap for Men and Women at best price in Pakistan with fast shipping in Karachi, Lahore, Islamabad, Rawalpindi, Faisalabad, Sialkot, Peshawar, Quetta, Multan and all the other cities of Pakistan!
What is a Posture Belt?
Definition
A posture belt is a wearable device designed to help improve posture and reduce back pain.
Variance Posture belt straight posture belt – a comfortable and sturdy solution that makes it easier to achieve the perfect straight posture. Crafted with ultra-soft breathable Neoprene material, this belt is designed with a wide back and metal connections for increased durability. To provide extra comfort during use, we've also included comfortable underarm pads.
Functions
The belt works by providing gentle support to the spine and encouraging the wearer to maintain good posture.
Some of the benefits of using a posture belt include improved posture, pain relief, and increased confidence.
There are several types of posture belts available, including clavicle braces, figure-8 braces, and back braces.
When choosing a posture belt, it's important to consider your needs, size and fit, and material and durability.
While a posture belt can be worn for several hours a day, it's important to listen to your body and avoid overuse.
If you experience discomfort or pain while wearing a posture belt, it's important to remove it and seek medical advice.
How Does a Posture Belt Work?
This straight posture belt is easy to use and adjustable, thanks to its longer straps and step-by-step instructions for a pain-free experience. Don't let bad posture ruin your life – get the Variance straight posture belt today at price in Pakistan that won't break your budget! Our straight posture belt is a perfect solution for managing back pain, and with its comfortable design, you won't even know you're wearing it. Get straight posture belt price in Pakistan from Variance today and take the next step to straight posture!
Mechanics of a Posture Belt
The Posture Support Brace Adjustable Straight Strap from VARIANCE.PK is the perfect way to improve your posture and reduce muscle pain. This belt provides excellent support, allowing you to stand and sit up straight with more ease. It can also be easily adjusted for a custom fit that won't squeeze or pinch too tightly. The posture brace is suitable for both men and women, making it a great choice for couples. Additionally, the posture belt comes in two sizes – one for ladies and another for gentlemen.
Belt for back pain price in pakistan 
With this posture corrector belt, you can easily regain your proper posture with just a few minutes of use each day. Enjoy lasting comfort and feel more confident in your everyday activities with this posture belt! Shop now and get the best price in Pakistan with fast shipping. Don't miss out – order your Posture Support Brace Adjustable Straight Strap today!
Yes, a posture correction belt is a good choice for correcting and improving your posture. Posture correction belts are designed to help you actively engage the muscles in your back, shoulders and core that are responsible for supporting proper posture. Wearing the belt regularly can help you stand taller and sit better while providing support to your spine, decreasing pain caused by slouching or bad habits related to sitting at a desk all day.
The most important factor when choosing a posture corrective belt is finding one that fits properly – it needs to be snug but not too tight so it doesn't restrict breathing or movement. The best way to find this fit is trying on different styles before making a purchase. You should also look out for breathable fabrics like spandex or nylon which will allow air flow, helping keep you cool and comfortable even when worn for long periods of time. Additionally, many brands offer adjustable straps with Velcro closures so you can customize the fit without having the waistline bunch up uncomfortably beneath clothes.
Posture correction belts are especially helpful at developing muscle memory – as soon as you put them on they cue your body into an upright position which helps train those core muscles associated with improved postural alignment over time. They work well in combination with therapies such as chiropractic care or physical therapy since they provide continued support between visits; some even come with bonus shoulder rollers attached if needed!
Finally, it's worth noting that wearing one of these corrective belts isn't meant as an alternative to stretching exercises or other forms of exercise aimed at building strength and flexibility in key areas like the lower back and abdominals – rather it should be seen as a supplemental device used alongside these activities in order to get maximum benefit from them (while making sure good form remains consistent). A posture correction belt could be just what you need if poor posture has been causing chronic pain!
The length of time you should wear a posture corrector belt depends on many factors, including your age, level of physical activity, and the type of back pain you are experiencing. Generally speaking, it is recommended that you wear a posture corrector belt for at least 30 minutes per day to begin seeing results. After just two weeks of wearing the belt every day for 30 minutes or more, many people have reported an improvement in their overall posture and a reduction in back pain.
For those with chronic lower back pain or kyphosis (rounded upper spine), prolonged use of a posture corrector may be necessary to achieve effective results over time. It's best to start out slowly by wearing the belt for 20-30 minutes each day; as your muscles and ligaments adapt to the new alignment, gradually increase usage until it becomes comfortable to wear while sitting and standing longer periods throughout the day. When used daily over time (1-2 months or more), this approach can help strengthen weakened postural muscles and incentivize proper upright alignment.
It's important not to overuse your posture corrector – if worn too long or too often during the course of one day,.it can actually lead to muscular imbalances due untrained opposing muscle groups becoming weak from being overstretched throughout extended periods . That said, if used correctly following these guidelines (20-30 mins at first then gradually increasing up incrementally from there) , wearing a quality posture corrector regularly could very quickly become part of an effective maintenance routine for managing spine health!
How can I fix my posture permanently?
Is it too late to fix back posture?
At first glance, it might seem like poor posture is something that can't be reversed – you've slouched for so long, what could possibly make a difference now? The good news is that improving your posture as an adult isn't too late, and with some dedication and proper care, you can fix your back posture.
The first step in fixing your back posture is to start wearing a posture belt. A properly fitted posture belt will provide the muscle support required to hold up your spine and make sure it remains aligned with its natural curvature. Wearing a belt helps maintain better body mechanics by activating the muscles needed to stay upright or lay down in a proper position without straining them further or causing more damage. You should also focus on strengthening postural muscles such as those located in the abdominal wall – these are the muscles responsible for keeping you supported when standing or sitting up straight.
It's also important to maintain an active lifestyle with regular exercise and stretching – this combination of strength training and flexibility development will help keep your spine healthy both physically and neurologically. Because we spend most of our days sitting at desks or looking at screens which can lead to rounded shoulders, engaging in exercises specially designed to strengthen upper back/shoulder area muscles while stretching out chest/neck muscles can help combat slouching over time.
Your diet plays into this too – eating foods that are nutrient-dense helps ensure strong bones which promote spinal stability; particularly calcium-rich foods such as yogurt and milk (if tolerated) are great choices here along with omega-3 fatty acids from salmon, walnuts, chia seeds etc.. As always though all things should be taken in moderation – indulging once in awhile won't cause permanent damage but maintaining balance is key!
Improving one's back posture takes both physical effort as well as mental fortitude but know that it's certainly possible! With dedication towards increasing muscle strength through exercise combined with dietary improvements plus assistive tools like quality postural belts, there's no reason why anyone should feel resigned their bad habits from before need persist forever!
Q: Can I Wear a Posture Belt All Day?
A: While it's safe to wear a posture belt for several hours a day, it's important to listen to your body and avoid overuse. It's recommended to start with shorter periods of wear and gradually increase the time as your body adjusts.
Q: How Long Should I Wear a Posture Belt?
A: The length of time you should wear a posture belt depends on your individual needs and comfort level. It's recommended to start with shorter periods of wear and gradually increase the time as your body adjusts.
Q: Can a Posture Belt Cause Discomfort?
A: While a posture belt is designed to be comfortable and supportive, some people may experience discomfort or pain while wearing it. If you experience any discomfort, it's important to do something as soon as possible.